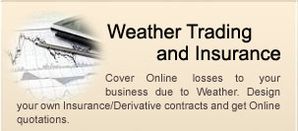 Weather derivatives are the first financial tool available to risk managers to stabilise earnings volatility caused by the unpredictability of the weather. The market started during the summer of 1997 when two US power companies, realising that they had opposite weather exposure, entered into the first weather derivative swap contract for the upcoming winter season. Since then, the market in the US has grown rapidly to an estimated 2,500 deals with a value at risk (VaR) of around $5 billion.
They are increasingly becoming standard fare in the portfolios of utility companies with non-US based deals set to be of increasing importance over the coming year. Markets are also developing in Europe, East Asia, Australia and South America with predictions of the European market being worth $8 billion within the next two years.
We provide specific Forecasts for you or your Business : seasonal forecasts, Alerts of weather violent (Issued Daily), the Weather Watch, the advice in weather risk managment. (from 250 Euros/month to 2500 Euros/year).
Please contact us !